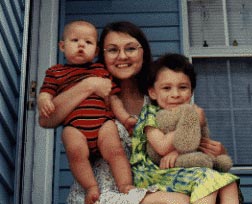 Tyann Maps (Lund)
Pictured with 13 month old son Kainen and 7 yr old daughter Amethyst. Not pictured, 6 year old son, Max.
Hello Everyone, I'm writing this regretfully to say that I am unable to attend the first reunion. I am very disappointed even though I don't know who remembers me. However, I was looking forward to reminising about our high school days and reaquainting myself with all of you. And, I was looking forward to partying!!
I live way over on the east coast in Virginia Beach, VA. Ya know, the same city Rudy Boesch from "Survivor" lives. We just celebrated his homecoming because he is the talk of the town and our hero. Plus, I work for the local news CBS affiliate and we are very pleased with "Survivor" success. So to get in on the success we are making several Rudy specials. Here it is "RUDY RUDY RUDY...SURVIVOR SURVIVOR SURVIVOR."
But that's not the reason I cannot attend the reunion. Personally, this has been a rough year and there are just too many things I cannot leave unattended even for a few days. However, My heart will be with everyone this Labor Day weekend. Everyone have a great time. I'll just be looking forward to online coverage of the event. Stephen Park...I'm sure will not disappoint. He has done a wonderful job with his website.
Did anyone buy the YEARVIDEO? I did. Maybe someone else still has their's and can show it at the party. It is a great spring board for memories.
My favorite memory of highschool is the Senior Class Play. I bonded with most of my classmate through that experience. Plus, I turned out to pursue an artist career, so the play was very rewarding for my artistic personallity. Yes, I was shy or some might say quiet in high school. That's particularly why I was looking forward to the reunion...to say...hey maybe I really didn't know you back then, but let's get to know each other now. Remembering our roots is very important. It defines the journey we have taken to become the people we are today.
Those of you who have hung on and continued to read this letter. Thank you. Have a great time at the reunion and I hope I get to see you at the next one. Aloha, Mighty Class of 1990.